Live Webcam Sydney Panorama, Australia
Live webcam shows a panorama of the Sydney Central Business District (CBD) in Australia.
Sydney is the largest city in Australia and the capital of the Australian state of New South Wales, it also the country's oldest city. It is located surrounds Sydney Harbour on the Pacific Ocean on Australia's east coast. The area of the city is 12,367.7 km2 (4,775.2 sq mi), it is home to more than 5 million people. Sydney was founded in 1788 and it is the first colonial European settlement in Australia. The city has a humid subtropical climate with moderately hot summers and warm winters. Precipitation in the city falls evenly throughout the year, the average annual rainfall is about 1217 mm. The main attractions of Sydney are the Sydney Harbour Bridge, the Sydney Opera House, and many sandy beaches located on the scenic coastline of the city with many bays and coves. Live webcam displays the Sydney Central Business District Panorama with the Harbour Bridge and the Sydney Opera House from Kirribilli suburb, located three kilometres north of CBD.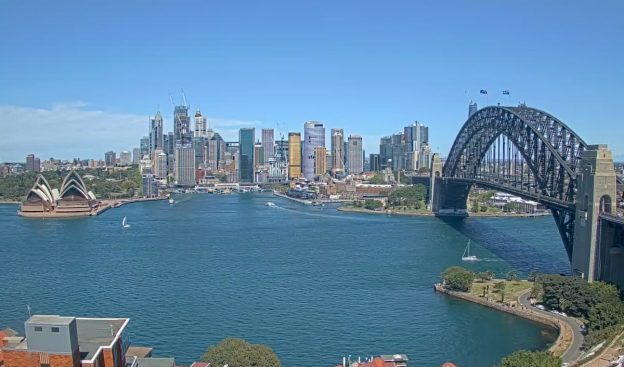 Share link on Live Webcam Sydney Panorama, Australia

Category:





Tags:





Have problems with webcam?

Attention! Images are updated every 10-60 seconds. Now you see the latest frame from webcam
+

It will interest to you
🔍

Cheap flights and hotels