Webcam Germany, Cologne, Cologne Cathedral
The webcam shows Cologne Cathedral in Cologne in Germany in real time.
Cologne Cathedral is gothic cathedral in the city center of Cologne and fourth largest church in the world. The main temple of the city was built in two stages, the first stage in 1248-1437 years, the second stage in 1842-1880. At the time of completion of construction it was the highest building in the world. Height of the Cologne Cathedral is 157 meters and it included in the UNESCO cultural heritage list. Today, Cologne Cathedral is the main sight of the city and it attracts many tourists from around the world. On the square before of the cathedral is always lot of tourists, it also is a place of pilgrimage for Catholics.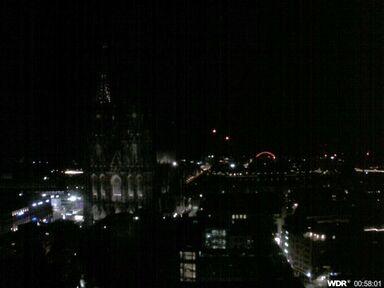 Share link on Webcam Germany, Cologne, Cologne Cathedral

Category:





Tags:





Have problems with webcam?

Attention! Images are updated every 10-60 seconds. Now you see the latest frame from webcam
+

It will interest to you
🔍

Cheap flights and hotels