Live Webcam Bourbon Street, New Orleans
Live webcam shows Bourbon Street in the city of New Orleans, Louisiana.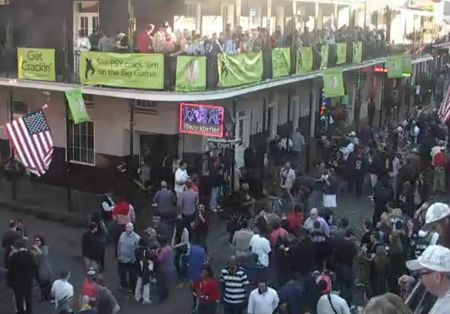 Bourbon Street is an old historic street in the center of the French Quarter of the city of New Orleans in the U.S. state of Louisiana. It is one of the city's main attractions and is known for its restaurants, bars, and strip clubs. The beautiful old French style buildings and rich history of the street attracts many tourists from all over the world. One of the most famous restaurants on Bourbon Street is Galatoire's, founded in 1905 and open for over 100 years. Entry to the restaurant is by dress code, here you can enjoy a traditional New Orleans cuisine. The French Quarter is the oldest neighborhood and historic center of New Orleans and one of the oldest residential neighborhoods in the United States. On December 21, 1965, the French Quarter became a U.S. National Historic Landmark and is visited by more than 15 million tourists each year. Every year, the French Quarter hosts one of the world's largest Mardi Gras Carnivals (Fat Tuesday) with thousands of participants in colorful costumes.